About us
We are involved in the production of the new generation of the European space rocket Ariane 6.
ATC Space
Passion for unique designs
ATC Space is the centre of competence for the milling of complex aluminium components and the assembly of load-bearing structures for space applications. We are responsible for the production of forward skirts and rear skirts. Both products are load-bearing structures located at the top or bottom of each booster engine, the so-called Booster Ariane 6. We supply a range of high-precision components of the main stage of this rocket. Our company brings opportunities and exciting prospects for the future regarding the market possibilities of applications for the aerospace industry.
The company cooperates with Czech research institutes. We have established relations with the Faculty of Mechanical Engineering of the University of West Bohemia in Pilsen, which has become our partner in the field of milling of aluminium parts. We also cooperate with the Czech Aerospace Research Centre in Prague, whose experts perform destructive tests of our rear skirt by simulating the surface pressure on the product. This examines the design parameters and critical elements.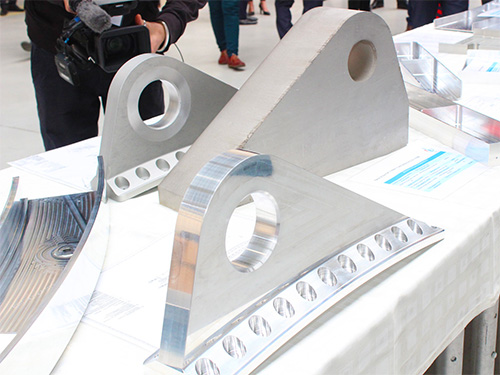 The German parent company originally chose Klatovy for its new production capacities in conjunction with the same, if not better, quality of workforce. The local industrial tradition is respectable. This goes back to 1854, when an engineering company in Klatovy was founded by Leopold Schíffauer. After the Second World War, it became Škoda Klatovy, part of the mammoth engineering plants in Pilsen. This plant ran its manufacturing operations until 2005, when it closed down due to difficulties and the restructuring of the original Pilsen group.
In the same year, the engineering company Drosten CZ was established in Klatovy, which, after the change of the ownership structure in 2011, became Aerotech Czech, a subsidiary of Aerotech Peissenberg and a sister company of the new ATC Space. Aerotech Czech is mainly engaged in machining high-strength materials based on nickel, chromium and cobalt. Parts of these alloys are used in extremely stressed parts of gas turbines and aircraft engines. Aerotech Czech products are supplied to, for example, the aircraft engine manufacturer Rolls-Royce.
ATC Space therefore continues the traditions of the engineering field in Klatovy, and this effort is also symbolized by the fact that the ATC Space plant is located in a new street named Schiffauerova.
ATC SPACE s.r.o.
Company ID No.: 06664148
Schiffauerova 940
339 01, Klatovy – Klatovy II
Czech Republic